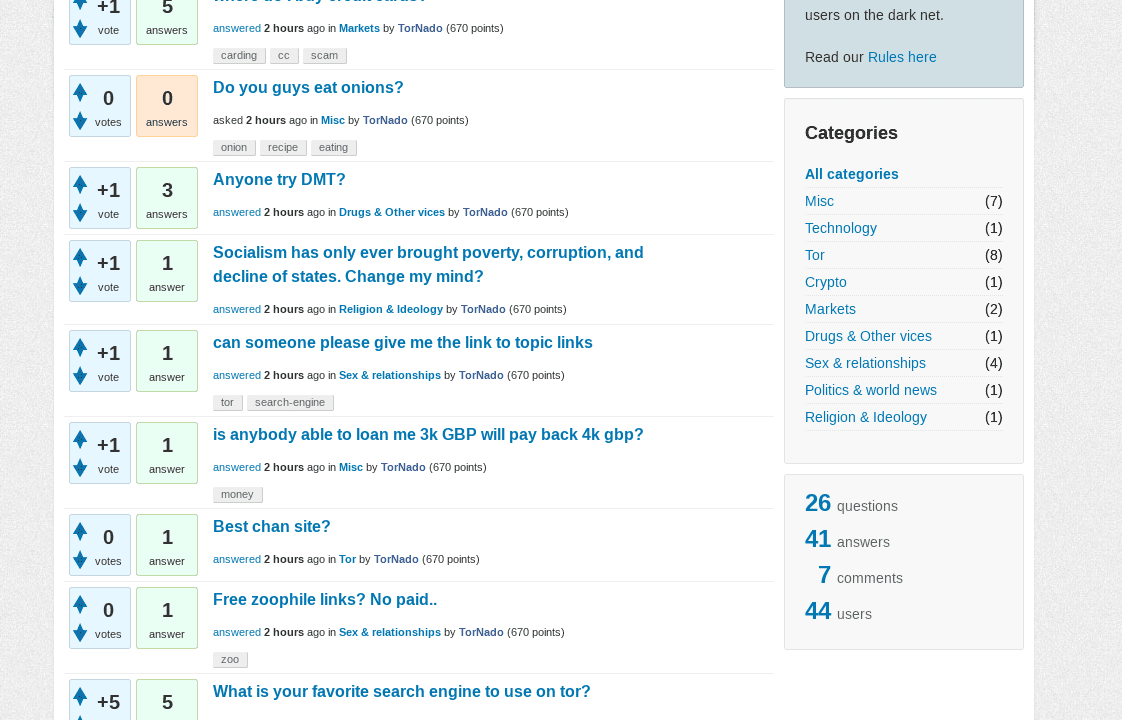 Hidden Answers is a simple colorful forum-like site where users can post questions and reply with answers on subjects pertaining to the darknet. Topic categories include Technology, Tor, Crypto, Markets, Drugs & Other Vices, Sex & Relationships, Politics & World News, Religion & Ideology, and Misc. The website is reminiscent of yahoo answers and stack overflow.
Why use Hidden Answers?
The website is primarily used for expanding the knowledge of its user base. The website is a place to turn to if gaps in one's understanding of the darknet appear. Users can share their experiences by asking and answering questions with a points system. These points increase with the more questions asked/answered and are publicly shown to indicate the social ranking of members. Anonymous replies to questions are possible however they do not receive points for posts. Users are not permitted to post questions regarding sexual hookups, instant messaging groups, and/or the promotion of other hidden services on Tor.
Downsides/Limitations
The main limitation currently is a lack of content. The newest instance of the site has been up for about a week (as of this publication) and only contains around a dozen questions for now. However, that means there is potential for new questions to be prominent in the stack. Another limitation is the quality of the information in posts. Since it is reliant on member submissions, answers may not be free of malicious intent.
How to access Hidden Answers

Hidden Answers can only be accessed using the Tor Browser via their onion address: http://fnpctr35hk66vmo4skablcyni7nfoe5xpjwqs7knv3xnmwl4huha76id.onion